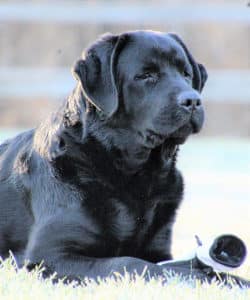 Stoli on a long down stay.
Camp K9 offers basic obedience both puppy and beginners on Saturday mornings from 10 am to noon. Your new puppy or young adult will gain confidence in themselves and the outside world.  Classes are 7 weeks long and cost $ 120.00.
Board and Train
Beginning April 1, 2017 Camp K9 will be offering a 1 week or 2 week program where your dog will stay with us all while learning basic behaviors.  During your dogs stay they will learn the focus command, sit/stay/wait, come, heeling on a leash, not to jump and door bolting. At the end of their training we will have an hour long review with the owners where we will go over everything the dog has learned while in our care.  At this time you may ask questions.  If we feel a 1 week stay is not sufficient we will suggest another week and possibly weekly group classes. We do not do any behavior modification or desensitizing.
Training your dog should be a fun experience for both you and your dog.  We only use positive reinforcement with tons of praise and treats.
Please call us to learn more about this program and to schedule your dogs class.   708-798-4473