MEMBER IBPSA (International Boarding & Pet Services Association)
Our facility is nestled on 2.17 acres in Country Club Hills, IL. We are on a dead end street and  offer our guests a quiet place to relax and play without the hustle and bustle of traffic to bother them.
Our largest yard is a spacious 30,000 square foot plot of soft grass decorated with doghouses and play equipment for our 4-legged friends to enjoy. We also have a 950 square foot indoor playroom in case of inclement weather, and a smaller 1,900 square foot concrete yard that is covered to avoid muddy paws after the rain or snow melting. We also have a 24 foot by 36 foot artificial turf yard for the dogs to run and play on. When we can not use our grass yard we still have plenty of space for the pups to get out and move.
We can accommodate up to 50 dogs for overnight care, keeping it small so each and every pet gets the personal attention they crave. Each of our guests are treated as though they were our own pets, being petted and played with throughout the day. We also post photos to Facebook daily and love interacting with our clients. We also love the fact that we are a small facility putting your dogs needs first and foremost.  We toyed with the idea of expanding to accommodate 100 dogs but the idea of losing that personal touch turned us away. We have so many dogs that came to us as puppies and are now in their geriatric years that we would never give up watching these dogs turn into wonderful loving pets. We have many of our beloved dogs buried here at Camp in our memorial including my own hear dogs Annie and Chloe'.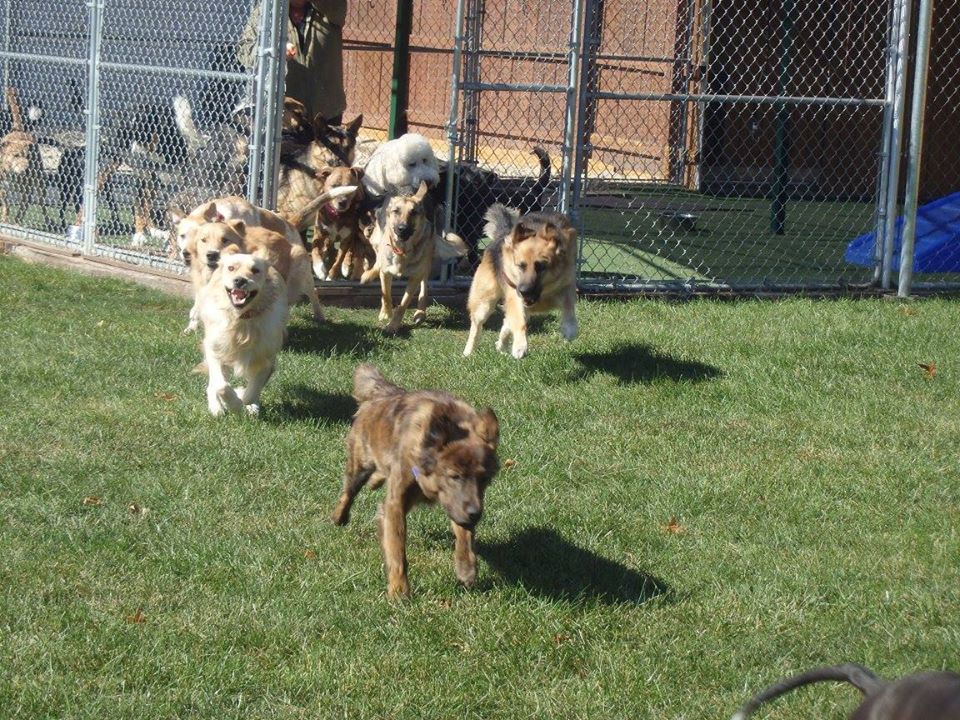 Renovations and Upgrades
New for 2017
Camp will be installing new fencing in our East grassed dog yard. This new fencing will be partially privacy and partially chain link for the safety of all the dogs here in our care.
We are also in the planning phase to put new windows, doors, and siding on our existing building and adding another playroom so that we can better accommodate all the dogs that come to us to have a good time.